Products >> RTSP Server (current version 3.4, updated at 2018-11-28)
RTSP Server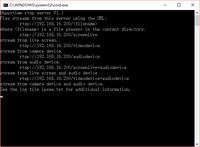 Release Version Price : $298
Source Code Price : $998
Get Rtsp Client

View Version History
Happytime RTSP Server is a complete RTSP server application. It can stream audio and video files in various formats.
It can also stream video from camera and live screen, stream audio from audio device.
It can stream H265, H264, MP4, MJPEG video stream and G711, G722, G726, AAC, OPUS audio stream.
These streams can be received/played by standards-compliant RTSP/RTP media clients.
Enjoying multimedia content from your computer can be a pleasant way for you to spend your free time. However, sometimes you might need to access it from various locations, such as a different computer or a handheld device, Happytime RTSP Server, that can help you achieve quick and efficient results.

The server can transmit multiple streams concurrently
It can stream audio and video files in various formats
It can stream audio from audio device
It can stream video from camera and live screen
It can stream H265, H264, MP4, MJPEG video stream
It can stream G711, G722, G726, AAC, OPUS audio stream
Support RTSP proxy function
Support ONVIF audio back channel
Support rtsp over http function
Support rtp multicast function

Key features
Support various audio and video files
Support stream video from camera and living screen
Support stream audio from audio device
Support stream H265, H264, MP4, MJPEG video stream
Support stream G711, G722, G726, AAC, OPUS audio stream
Support for configuring audio and video output parameters
Support rtsp proxy function
Support audio back channel
Support rtsp over http function
Support rtp multicast function
Support rtsp stream push function
With automatic transcoding function
Small size, suitable for embedded development
Code structure clear, easy to use

Support cross-platform compile
Support for windows platform
Support for linux/unix platform
Support for embedded platforms
Support for IOS/Mac platforms
Can be easily ported to other platforms

Handy, portable command line application
Since it is portable, this program does not require you to install it on your computer, it does not tamper with any Windows registry entry, nor does it create any additional files or folders on your PC. It can be accessed by running the executable directly.
It does not come with a Graphical User Interface (GUI), which might disconcert some users. However, its core function is quite straightforward and its lack of interactive controls makes it easy even for novices to benefit from its capabilities.

Helps you host an RTSP server on your computer without effort
Happytime RTSP Server's sole purpose is to help you host a server on your computer that allows you to broadcast various multimedia streams. Running the executable automatically starts the server and provides you with brief instructions on how to play a stream from an external location.
This application features support for various audio and video documents, camera device, live screen and audio device. Therefore, you are provided with multiple possibilities regarding file compatibility. However, the files you want to access via streaming need to be in the same directory as the server executable.

The demo version limitations
Maximum support four simultaneous client connections.
Only one rtsp proxy stream is supported.
Only one rtsp pusher stream is supported.